BUILDINGS OF SPECIAL ARCHITECTURAL OR HISTORIC INTEREST.
EAST END FARM HOUSE.
East End Farm House is a 16th /17th century two storey house, made from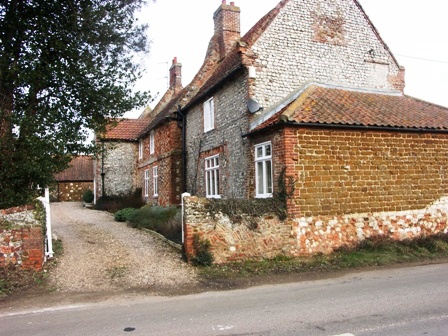 carstone and clunch with brick dressings and red pantile roof. A flint with brick dressing porch on the west side has stepped brick coped gable with cut down central finial. On the south side is knapped chequer work carstone, flint and pink clunch. brick coped parapets divide from north and south.
Ground floor has one 3 light 20th century casement, set in narrowed surrounds of 2 former 18th century sashes, with quoins and flat brick arches surviving. Two 2 light casements in rectangular 17th century brick openings. East End Farm house is still in use today as a working farm.
THE WHITE HOUSE.
The White House is a late18th century whitewashed brick 2 storey 5 bay farm house with an orange pantile roof. Central 2 leaf door with 2 upper panels glazed with open pediment canopy on simple console brackets. A 2 story addition to the west has a whitewashed ground floor with single boarded door. More alterations have been added in this century.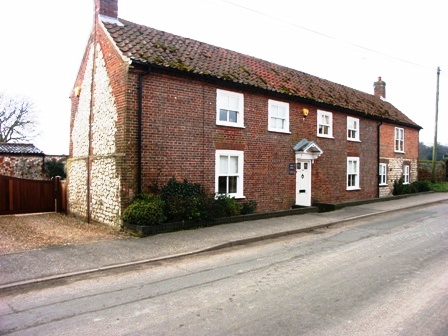 The White House as it stands today 29 Jan 2011 minus its white coat.
THE GIN TRAP INN.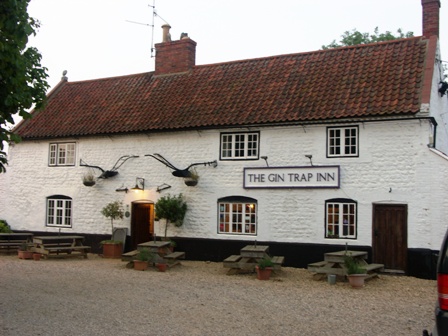 The Gin Trap Inn is a 17th century inn with 19th century details. Built from clunch with brick dressings whitewashed and a red pantile roof. Two 3 light and 1 two light ground floor arch headed casements, 2 three light and 1 two light casements on the first floor and lean-to additions on the north and south sides complete the front view.