Ringstead village hall is situated on the high street next too the Gin Trap Inn, with it's own car park kitchen and two rooms. The main room and side room both have wooden floor's and full wheelchair access. Unavoidably the kitchen has a small step but can be accessed with care and assistance if required. The hall is suitable for a wide range of uses from keep fit through martial arts, bingo, club's, discos, receptions, private parties to conferences. Being next to the Gin Trap Inn means that refreshments on a larger scale are on hand. Booking's can be by the hour, part day or longer subject to demand and compare very favourable with the surrounding villages.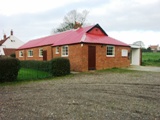 A view of outside the hall.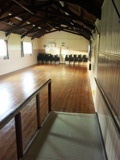 Inside main hall from ramp.